Welcome to the City of Goshen's Virtual Recreation Center. These are challenging times for everyone, but we hope to provide resources that will keep you happy, healthy and engaged.
Be sure to check back often as new content and activities will continue to be added. If you have a great idea or resource you would like to share, please email us at goshenparks@goshencity.com.
---
Fitness
---
Education & Exploration
NASA STEM Activities for Grades K-4: Activities range from building foam rockets to solving space station emoji puzzles. Parents can also download coloring sheets and books for younger kids.
Discovery Education: Free virtual field trips complete with companion guides and hands-on learning activities.
PBS Kids: A free online resource for parents featuring tips and learning activities organized by subject, as well as arts and crafts ideas.
Kids Think Design: A free online resource providing information and interactive projects for kids and teens interested in a variety of design careers.
All Kids Network: A free online resource for parents and teachers featuring thousands of fun activities, crafts and worksheets.
Take a Trip to Mars: Explore the surface of Mars on the Curiosity Rover. The site is in the middle of an update, but the 360 mode offers a great digital view.
Sesame Street Games: Monster Foodies with Cookie Monster, Ernie's Bathtime Fun, Big Bird's Basketball and more!
Healthy Eating & Staying Active Made Easy!: To help teach families and children about healthy lifestyles, Goshen Health has created a webpage that includes ideas for staying active and fun videos!
---
Zoo Cams
Cincinnati Zoo: The Cincinnati Zoo will host a Home Safari Facebook Live that features a different animal each day. For those who don't have social media, the zoo will post the safaris on both their website and YouTube.
Panda Cam Zoo Atlanta: Pandas are always fun to watch, quarantine or not, and Zoo Atlanta offers this live stream of the only panda twins in the United States, Ya Lun and Xi Lun.
Monterey Bay Aquarium: Live cams where viewers can sneak a peek at the sharks, do a little birdwatching in the aviary, and they can even check out the open sea.
San Diego Zoo: Live cams to choose from, including penguins, tigers, koalas and giraffes. The zoo also has a website exclusively for kids that's loaded with videos, stories, activities and games.
National Aquarium: Live broadcasting from the National Aquarium in Baltimore. Tune into their Blacktip Reef, Jellies Invasion and Pacific Coral Reef live streams to enjoy pieces of the Aquarium from home.
---
Art & Story time
PBS Kids https://pbskids.org/sesame/art/
---
Fitness Classes for Kids
Arthur Family Health PBS Kids Like kids everywhere, Arthur and his friends sometimes struggle with watching too much TV and not getting enough exercise. Here are some resources to help you and your family understand the basics of staying fit — and inspire your kids to get and stay healthy too!
https://pbskids.org/arthur/health/fitness/
---
Virtual Tours of Museums and Historical Sites
The Smithsonian Museum: The Smithsonian Museum offers virtual tours of their current and permanent exhibits, and viewers can even take a look at a few of the past exhibits. Users can easily navigate between adjoining rooms of the museum and click on the camera icons for a closer look.
National Museum of Modern and Contemporary Art, Seoul
National Gallery of Art, Washington D.C.
The Great Wall of China: This virtual tour offers a breathtaking view of the Great Wall Of China, and visitors can even read up a little on its history.
---
Explore Your Neighborhood
Many of the City's outdoor parks and walking trails are still open! We encourage you to take a walk outside and explore one of our various walking paths, but we strongly recommend you follow these guidelines outlined by the National Recreation & Parks Association regarding outdoor exercise and social distancing:
Refrain from using parks or trails if you are exhibiting symptoms.

Follow CDC's guidance on personal hygiene prior to, during, and after use of parks or trails.

Prepare for limited to no access to public restrooms and water fountains.

While on trails, warn other users of your presence and as they approach, step aside to let others pass.

Follow CDC's guidance on the recommended size of social gatherings including, but not limited to: outdoor picnicking, pick-up sports, and other group hangouts. Be sure to maintain proper physical distance at all times.

Observe CDC's minimum recommended social distancing of six (6) feet from other individuals at all times. If this is not possible, users should find an alternate location or depart that space.

Consult your local and state ordinances and guidelines for the most up to date recommendations on park and trail use.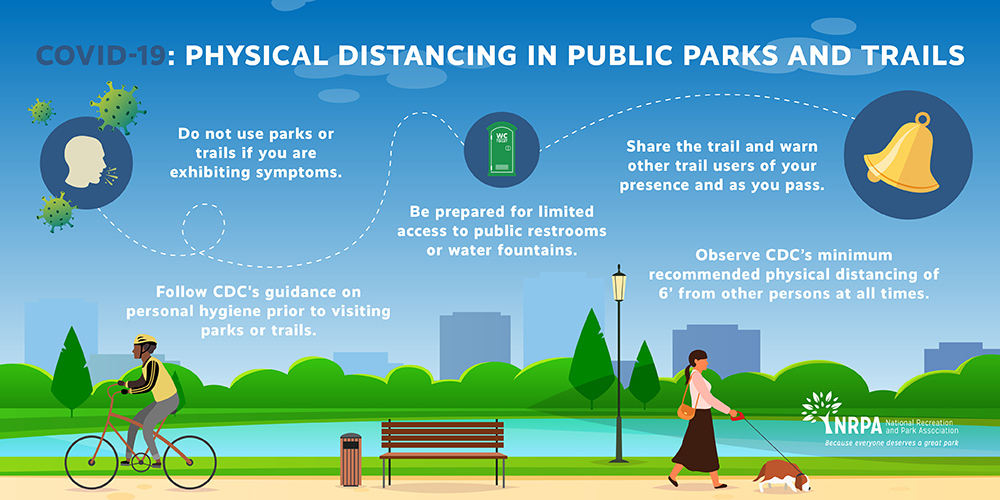 ---
To view current programs and activities, please consult the 2023 Activity Guide.
We also invite you to like us on Facebook and follow us on Twitter and Instagram.
Get parks and recreation updates sent straight to your inbox. Click the "Sign Up for Email Updates" to join our email list. You can sign up for the programs & events that interest you the most!