---
Zumba
De-stress, lose weight and make new friends at Zumba®, an exhilarating, effective, easy-to-follow, calorie-burning dance fitness party that is moving millions of people toward joy and health! Join instructor Pamela Sanchez and see what Zumba® has in store for you!
Goshen Parks Dance Studio (Indoor Class)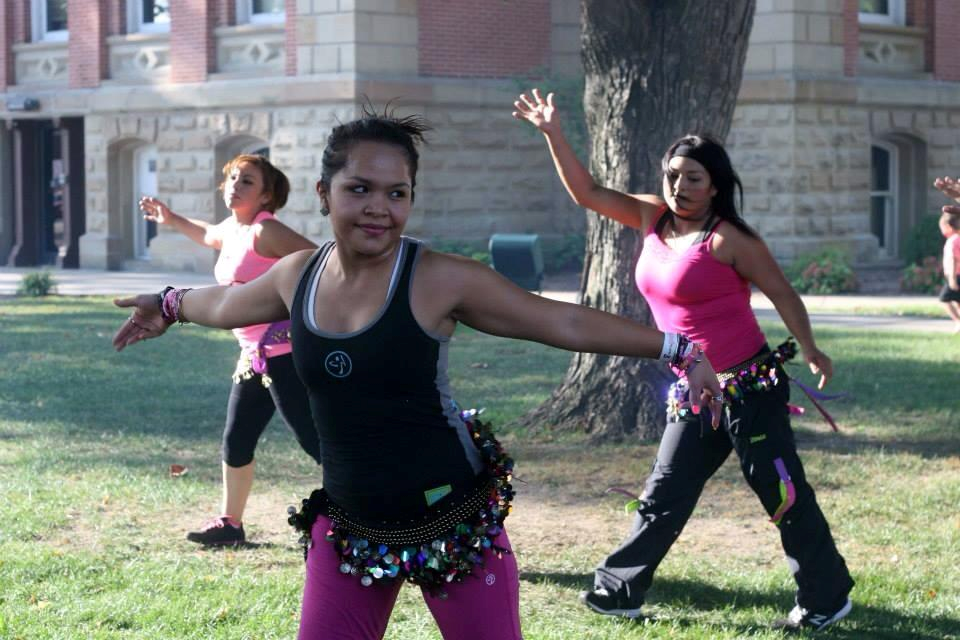 Dates: January through April and November, December
Days: Monday, Wednesday, Saturday
Times: Monday- 6:30-7:30 pm | Wednesday- 6:30-7:30 pm | Saturday- 10-11 am
Fee: $5 drop-in rate
Pringle Park- Fidler Pavilion (Outdoor Class)
Dates: May through October
Days: Monday, Wednesday and Saturday
Times: Monday- 6:30-7:30 pm | Wednesday- 6:30-7:30 pm | Saturday- 10-11 am
Fee: $5.00 drop-in rate
---
inMOTION Fitness with Emily!
Get your body inMOTION with Coach Emily! Emily is a Certified Personal Trainer and Group Fitness Instructor dedicated to creating impactful fitness experiences through CONNECTION EMPOWERMENT AND INSPIRATION.

Monday at 9am DANCE Fit: A cardio class rooted in hip hop jazz and ballet to top 40s music! The moves are simple repetitive and easy to modify. Anybody can do this class, no dance experience needed, and NO JUDGEMENT. Take your adult hat off for an hour and see how good you feel.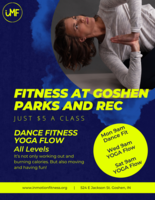 Wednesday at 9am/ Saturday at 9am YOGA Flow is a blend of Tai Chi Yoga and Pilates; designed to improve your joint strength, balance, hip and spine mobility, and core strength. You will leave this class feeling longer, stronger, calmer, and more centered.

Please look her up at www.inmotionfitness.org and RSVP for your next class!
All classes drop in rate of $5.00
All classes meet at 524 East Jackson Street
---
To view current programs and activities, please consult the 2023 Activity Guide.
We also invite you to like us on Facebook and follow us on Twitter and Instagram.
Get parks and recreation updates sent straight to your inbox. Click the "Sign Up for Email Updates" to join our email list. You can sign up for the programs & events that interest you the most!