The Rieth Interpretive Center's primary purpose is education, with a focus on interpreting the natural, cultural, and industrial heritage of our community. Through its programs and its use opportunities, the Center will exemplify the concept of reconciliation between man and environment. The Center provides universal access to all of its educational opportunities.
Hours: Open to the public on Monday - Thursday, 8 am - 4 pm and open Fridays by appointment for programs, activities, and events. The facility is located at Millrace Park, 410 W. Plymouth Ave.
---
Nature Hikes: Take a walk in the woods as we look for wildflowers, signs of bird nests, wildlife habitats and multi-colored leaves. Join us in observing nature and the changing seasons. Start your day with a breath of crisp, invigorating autumn air! For more information, call the Goshen Forester, Aaron Sawatsky-Kingsley, at (574) 537-0986.
---
School and Community Programs: Schedule a field trip to the Rieth Interpretive Center for your school group, club, scouts, home school, church group, seniors group or whomever. We will create a program based on your interest, complete with a nature hike and an indoor presentation.
Program topics include, but are not limited to, those listed below: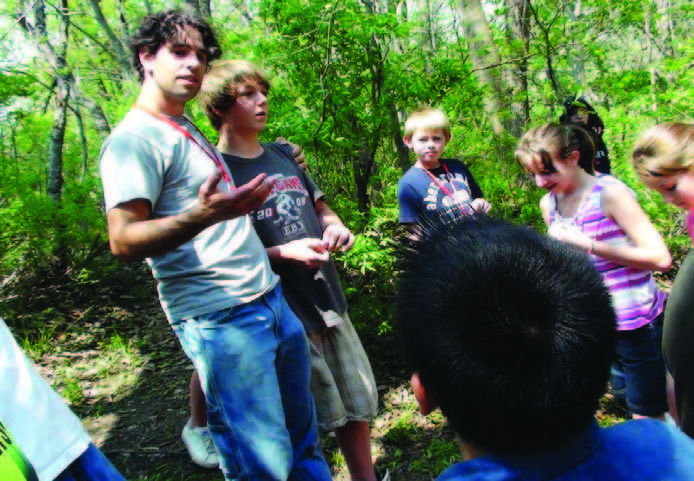 The Seasons

Using Our Senses Outdoors

Food Chains

Dissecting Owl Pellets

Night and Day

Recycling

Nature Hikes

Bird Walk

Conservation/Preservation

Geology

Regional History

Environmental Responsibility

Sustainability
---
Thank You for Your Support!
Donations of food for wildlife and monetary donations are greatly appreciated. We thrive on the generosity and goodwill of our community. Support the Rieth Interpretive Center today by contacting Aaron Sawatsky-Kingsley at (574) 537-0986 or email aaronkingsley@goshencity.com to make arrangements for your donation.
---
To view current programs and activities, please consult the 2021 Activity Guide.
We also invite you to like us on Facebook and follow us on Twitter.
Get parks and recreation updates sent straight to your inbox. Click the "Sign Up for Email Updates" to join our email list. You can sign up for the programs & events that interest you the most!