In 2004, the City Council passed an ordinance which established a Department of Cemeteries combining the management of cemeteries under a Director of Cemeteries and a Board of Cemetery Trustees. The Board, consisting of five members, appointed by the Mayor, meets four times a year.
Official cemetery records are maintained, deeds are issued and payments are processed through the Clerk-Treasurer's office, located at 202 S. 5th Street. Contact them at 574-533-8625.
The "Cemetery Information & Regulations" document contains decorating guidelines and other information pertinent to cemetery patrons.
Cemetery fees are set by the City Council. Current fees were adopted at the July 18, 2017 City Council meeting in Ordinance 4915.
NEW: Locate a burial at Oakridge on your mobile device. Click here or scan the QR code posted on the Oakridge shop door with your cellphone camera and the link will pop up. Your web browser will ask for permission when you open the link for the first time. Type the person's name in the search box. Select the correct person if more than one comes up. Click on the compass icon to mark your own location. Walk or drive toward the burial site. When the two points come together on the map you should be within ten feet of the burial. Some burials may not have monuments.
---
our staff: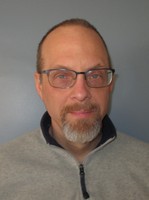 Burton Matteson
Director of Cemeteries, Violett Sexton


​Tabatha Smallwood
​Assistant Director of Cemeteries, Oakridge & West Goshen Sexton
574-536-1489
tabathasmallwood@goshencity.com
---
Our cemeteries:
Oakridge Cemetery
The earliest known burial at Oakridge Cemetery was in 1832. The trustees of First Methodist Church founded the cemetery in 1839 and passed it to the City of Goshen in 1859. The 40 plus acre property, just north of the U.S. post office across the railroad tracks, contains numerous historic burials including eight mayors of Goshen and veterans from every major American war. Unique sections at Oakridge include the Grand Army of the Republic and potter's field sections and sections founded by Sharis Israel (Jewish congregation), International Organization of Odd Fellows and Eastern Orthodox churches. Burial sites are available at Oakridge.
Map
West Goshen Cemetery
Settler John Cripe who died in 1831 is believed to be the first burial at West Goshen Cemetery. The site was purchased and used by the German Baptist Church as a cemetery beginning in 1859. After being a church cemetery for over 100 years it was ceded to the City of Goshen by West Goshen Church of the Brethren in 1975. The property, south of Berkey Avenue, near the junction of Berkey and Dewey Avenue, includes over ten acres and has burial sites available for purchase.
Map
Violett Cemetery
Violett Cemetery, located on Violett Road, just south of Kercher Road and the Goshen Dam Pond, is named for the pioneer family that first owned the 40 plus acre property. The first known burial at Violett was in 1837, but local lore suggests that a Native American burial ground existed on the property prior to that. Another local legend suggests that the Underground Railroad passed through along the east bank of the Elkhart River. Violett was officially established as a cemetery sometime in the mid- to late 1800's and passed to the City of Goshen in 1897. Burial sites are available at Violett.
Map
Dierdorff Cemetery
Dierdorff Cemetery is a small pioneer-era cemetery of less than two acres located just south of Goshen College on Main Street. The first burial here was Elizabeth, daughter of German Baptist pioneers on their way to Iowa in the early 1830's. The property was purchased and established as a family cemetery by Peter Dierdorff in 1854. It has been maintained by the city since 1976 but was incorporated into the Cemetery Department only in recent years. No burial sites are available there.
---
You might be asking...
What is This Violett Cremation Garden?
In late 2017, work was completed on a new cremation garden at Violett Cemetery. This area was conceived by our staff to receive cremated human remains and commemorate the persons whose remains are placed here. Cremation has only increased in popularity and use over the past 15 years. Options for the dignified disposition of those cremated remains have been limited locally. This garden offers several attractive choices for families. There are small burial spaces for individual cremations. A community columbarium has individual niches available for purchase. Additionally, a planted scattering area provides a permanent, attractive location for a loved one's ashes.
Do You Have Spring Clean-up?
Yes, our spring clean-up occurs Monday to Friday the first full week of April (2-6 this year). Items likely to be removed by staff during spring clean-up include old silk flowers (especially if they are in the way of trimmers), broken items, old flags, old frames & wires, glass items and out-of-date seasonal items. If you have items that you are concerned about, please remove them before the clean-up begins.
How Do I Purchase a Burial Space?
Contact the sexton of the cemetery where you wish to be interred for an appointment. We can show you what's available during our regular weekday office hours. Checks should be made out to the City of Goshen. Payment plans can be arranged through the City Clerk Treasurer's office.
What do I Do With These Cremated Remains?
More people are choosing cremation and relatives frequently delay the final disposition of those cremated remains until more convenient time. Here is what you need to know if you have cremated remains in your possession:
Under Indiana statute, a funeral director should be present whenever cremated remains are buried, placed in a columbarium or scattered. If you are in possession of the cremated remains, it is your responsibility to contact a funeral director and arrange for their presence.
It is the policy of Goshen City Cemeteries to require the use of a vault or urn-vault of concrete, hard plastic or other rigid, durable material (wood, porcelain, glass or other brittle materials are not suitable) for ground burial. An urn of non-biodegradable is required for our community columbaria. The dimensions of our niches are 11.25"X 11.25"X 11.25". Most funeral homes and vault companies sell these containers.
The sexton should be notified at least two business days in advance of the date/time of the planned internment, inurnment or scattering and the dimensions of the vault being used (for a ground burial).
Goshen City Cemeteries requires an Indiana Transit Permit (or copy of it) which can be obtained from the funeral home. This is a different document from a cremation certificate (issued by the crematory). This permit (or copy) must be presented to the sexton prior to internment. For scattering, a signed Scattering Agreement must be included as well.
Our cremation garden at Violett Cemetery provides community columbarium niches, single cremation burial spaces and a scattering area (scattering is not permitted elsewhere in our cemeteries.) Cremated remains can also be buried on a regular burial space provided there is no previous full burial on that space – they cannot be buried on top of a previous burial. Up to four burials of cremated remains may be buried on a regular burial space.
The fee for scattering or opening/closing the grave or niche must be paid in advance of the internment, either through the funeral home or directly to the sexton.