Fidler Pond Boat Rentals and Elkhart River Canoe Trip
Take a canoe trip on the Elkhart River or enjoy Fidler Pond with a canoe, kayak or pedal boat. Lifejackets are provided for ages 4 and up (not recommended for children ages 3 and under). An adult must accompany children ages 8 and younger in the boat.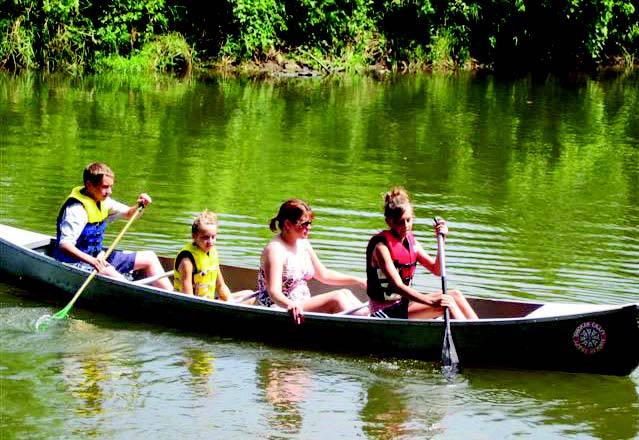 Season: April 15-October 15
Maximum capacity per canoe: two adults and two children, or three adults
Plan accordingly! Please take note of the water currents, obstructions and weather.
Glass containers are prohibited.
Please do not litter. Pack it in, pack it out!
Fidler Pond Boat Rentals
Visit the red barn at Fidler Pond Park, 1424 Lincolnway East, for your boat rentals.
Rentals offered daily beginning at 8 am; all boat returns are one hour prior to dusk, so please plan accordingly.
Fidler Pond Boat Rental Fees
Canoe, kayak and pedal boat rental fees are $10 (tax included) per hour per boat.
Fishing pole rental (for bank fishing) is $2/2 hours.
Lifejackets are mandatory while on Fidler Pond; if you bring your own canoe or kayak and need a lifejacket, rental is $2/2 hours.
Elkhart River Canoe Trip
Goshen Park Department Administration Office on West Plymouth Avenue to Ox Bow County Park.
Trip length is approximately four hours.
Canoe trip is offered daily: 10 am departure, 2 pm pickup.
Shuttle service is provided from Ox Bow Park back to Administration Office. Parents must supply car/booster seats for children.
Visit the Goshen Park Department Administration Office at least 48 hours in advance to make your Elkhart River canoeing reservations.
Elkhart River Canoe Rental Fees
Rental fee is $20 + tax per canoe.
Deposit is $20 per canoe + valid driver's license.
---
National Trails Day
Does Goshen have great trails or what? On Saturday, June 2 the Goshen Park Department invites you to take part in a leisure bike ride or hike in recognition of National Trails Day. See page 21 for trail map and information.
---
Community Gardens
What is a community garden? A piece of land gardened by a group of people. Get involved to grow your own vegetables, flowers and community at Hay Park's or Allan J. Kauffman Park's Community Garden. For more information, contact the Goshen Park Department, 534-2901.
---
19th Annual Pumpkinvine Bike Ride
Friends of the Pumpkinvine and the Goshen Park Department are sponsoring the 19th Annual Pumpkinvine Bike Ride on Saturday, June 16. Friends of the Pumpkinvine Nature Trail, Inc., are cyclists, hikers, equestrians and naturalists who are working with area park departments to create a linear park and greenway on the former Pumpkinvine railroad corridor connecting Goshen, Middlebury and Shipshewana. To register for this year's bike ride, visit www.pumpkinvine.org.
---
For information about other Parks programs and activities, please consult our Parks & Recreation Program Guide.
Get parks and recreation updates sent straight to your inbox. Click the "Sign Up for Email Updates" to join our email list. You can sign up for the programs & events that interest you the most!