Zumba®
De-stress, lose weight and make new friends at Zumba®, an exhilarating, effective, easy-to-follow, calorie burning dance fitness party that is moving millions of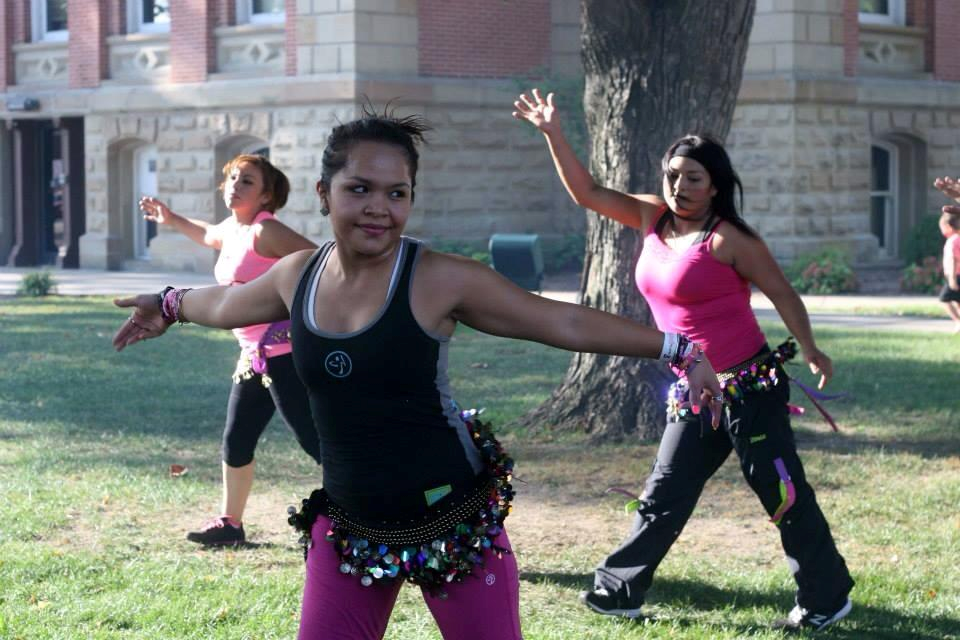 people toward joy and health! Join instructor Pamela Sanchez and see what Zumba® has in store for you! The class meets on Saturdays from 10:00am-11:00am at the Goshen Theater Ballroom located at 216 S. Main St. Participants can register at the class for a $5.00 drop in rate. Class will not be held on November 24, December 22 and December 29.
Dates: November 10- January 26
Day: Saturdays
Time: 10:00am-11:00am
Location: Goshen Theater Ballroom
Fee: $5.00 per class
---
Water Aerobics
This water exercise class has something for everyone and is suitable for all fitness levels. The class includes a morning stretch, thermal warm-up aerobic training
as well as strength, core training, flexibility and balance. Because the water creates more resistance than land, this workout is efficient and easy on the joints, and participants get a great workout without sweating. Various water levels are used to create variety and to alleviate the necessity to swim. Your instructor has 25 years of experience and is trained by the Aquatic Exercise Association, an internationally acclaimed organization with the highest of standards. She believes that exercise and fitness are crucial to each individual's physical, psychological and emotional health. Class meets Tuesdays and Thursdays, 6–7 am, at Goshen Middle School. Pre-register at the Parks Office to receive the reduced session rate, or take advantage of dropping in anytime throughout sessions and pay the drop-in rate of $6 per class. If you are not pre-registering please follow us on Facebook for schedule updates. No December classes.
Fall Session I: August 14–September 27: 14 classes for $70
Fall Session II: October 2–December 6: 16 classes for $80.
Winter I: January 8–February 14: 12 classes for $60
Spring I: $80 To be determined
Spring II: $80 To be determined
---
Pickleball
What is pickleball?! It is a sweet sport with a sour name, a craze that is sweeping the nation. It combines many elements of tennis, badminton and Ping-pong. The game is played both indoors and outdoors on a badminton-size court, with a slightly modified tennis net, paddles and a plastic ball. Our outdoor courts are located at Model Elementary School, 412 South Greene Road, in Goshen (open seasonally). If you want to learn more or see what pickleball mania is all about, you may also join us for indoor play at Model Elementary School in November. For more information, please contact Kim Stephens at 534-2901.
---
Brazilian Jiu Jitsu
This introductory session will give participants a basic understanding of Brazilian Jiu Jitsu history, theory and techniques. Classes will include a warmup, stretching and technical instruction. Self-defense techniques and movement drills, without striking, also will be taught. Brazilian Jiu Jitsu is unique to most
other self-defense systems as it focuses on use of leverage and proper technique, taking the attacker to the ground and defusing the situation by use of joint locks and holds. Class is taught by Brazilian Jiu Jitsu Goshen instructor Bryan Barrick at 427 West Pike Street, Suite 2 (behind Bob Evans and Walgreens). Session cost is $25.00.
Winter Session: February 7, 14 and 21
Youth Class (ages 4–14): 5:45–6:30 pm
Adult Class (ages 15+): 6:30–7:30 pm
Fee: $25.00
---
To view current programs and activities, please consult the 2018-2019 Fall & Winter Program Guide.
We also invite you to like us on Facebook and follow us on Twitter.
Get parks and recreation updates sent straight to your inbox. Click the "Sign Up for Email Updates" to join our email list. You can sign up for the programs & events that interest you the most!