I Try Scuba
Ever wonder what it's like to take a breath underwater? Or what it's like to be a fish? Find out at Shanklin Pool on Saturday, June 2 and July 7 from 8 to 10 am.
Join dive instructor Greg Stone and other master divers who will be on hand to let you experience the underwater world. All equipment will be provided. Bring your swimsuit and towel, and be ready to get wet. This one-day introduction to scuba (which stands for self-contained underwater breathing apparatus) is just $5! Pre-registration is required at the Goshen Parks & Recreation Office by Wednesday, June 1 and July 6. For ages 10 to adult.
---
Scuba Classes
Learn the fundamentals of scuba diving, including equipment selection, how water pressure affects you when diving, planning your dives and safety. Upon completing the two-day course— or when a level of proficiency is achieved—participants will schedule four open-water dives with the instructor. Divers ages 15 and older who complete the course and open-water dives will earn PADI (Professional Association of Diving Instructors) Open Water Diver certification. Individuals ages 10–14 are eligible to achieve Junior Open Water certification. Equipment will be provided except for mask, snorkel, fins and boots. These may be rented ($50)—or you may bring your own. Pre-registration is required at the Goshen Parks & Recreation Office. Class fee is $300, which includes the two-day course, textbook, four open-water dives and additional instruction to achieve certification, if needed. Classes will meet at Shanklin Pool from 8 am to 3 pm. Please bring a swimsuit, towel, water bottle, textbook and equipment to each class.
Session I: June 23 and 24; register by Friday, June 15
Session II: July 21–22; register by Friday, July 13
---
Pickleball
What is pickleball?! It is a sweet sport with a sour name, a craze that is sweeping the nation. It combines many elements of tennis, badminton and Ping-pong. The game is played both indoors and outdoors on a badminton-size court, with a slightly modified tennis net, paddles and a plastic ball. Outdoor pickleball courts are located at Model Elementary School, 412 South Greene Road in Goshen (open seasonally). Equipment rental is available at the Goshen Parks & Recreation Department, $5/two paddles and a ball. Rules and procedures will be provided. For more information, please contact the Park Office at 534-2901.
---
POUND®—ROCKOUT WORKOUT
Sweat, sculpt and rock with POUND, a cardio jam session inspired by the infectious, energizing and sweat-dripping fun of playing the drums. Ripstix® add extra weight to each movement, creating contraction in the core and stabilization system. Burn up to 450 calories per half-hour with this workout that combines the best cardio, strength-training and conditioning moves. Drastically improve your rhythm, timing, coordination, speed, agility and endurance. Strengthen and sculpt
infrequently used muscles, and drum your way to a leaner, slimmer physique—all while rocking out to your favorite music! For ages 10 years and older. All fitness levels are welcome, as your POUNDPro instructor Dawn Kraft can modify classes to meet participants' needs. Please bring a yoga mat or beach towel to class. Instructor will provide the Ripstix®. Classes meet at the Rieth Interpretive Center on Mondays and Wednesdays, 6–6:45 pm. Pre-register at the Park Office for a five-week session (10 classes), $50, or pay the drop-in rate of $6 at the class.
Spring Session: March 26–May 7 (10 classes, no class April 2, 4 or 16)
Summer Session I: May 9–June 20 (10 classes, no class May 21, 28 or June 18)
Summer Session II: July 30–September 5 (10 classes, no class August 20 or September 3)
---
Yoga on the Millrace
This inviting class is an all-levels, one-hour yoga practice designed to create fluidity, flexibility and strength. Enjoy a yoga practice outdoors with the sounds of nature, fresh air and watch the morning sunrise with a whole new perspective. These classes take place on a brick paver patio at the north end of the millrace,
next to the Millrace Power Station and John Mishler's Dream Chaser sculpture. The patio is directly west of the Farmer's Market and south of the Interra Credit Union parking lot. Classes meet June 2–July 28, for one hour, on Saturdays at 7:30am. Please bring a mat and beach towel to class. Class instruction is provided by Spacious Heart Yoga of Goshen. Classes will not meet if the temperature falls below 60 degrees, so check SpaciousHeartYoga.com for updates. Register in advance for the nine week session, $45, or drop in anytime for $5 per class. Pre-register at the Goshen Park Office.
---
Beginning Fly Fishing
Learn when and why fly fishing is the right tool for the task. Gain an understanding of what weight fly rod and fly line to use for various types of fishing. Learn a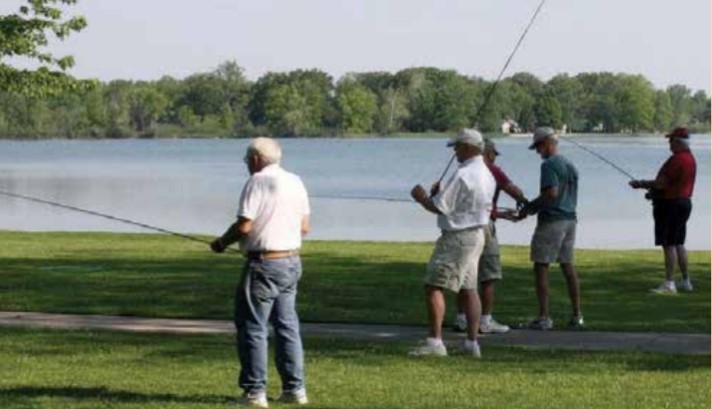 little bit about leaders and tippet, as well as line and fly types, fly tying, basic knots, bugs, and fly fishing safety and etiquette. Instruction will include basic casting techniques and the five casting principles that will help you become more proficient in handling different casting situations. Fly casting is not difficult, but it does use different motions than other types of fishing. Class will be held on Saturday, August 4 from 9 am to 12 noon at Chiddister Pavilion in Fidler Pond Park, 1424 Lincolnway East. Class is limited to five participants, and the required minimum age is 11 years old. Equipment will be supplied. Pre-registration is required and is currently being accepted at the Park Office. Cost is $15 per participant.